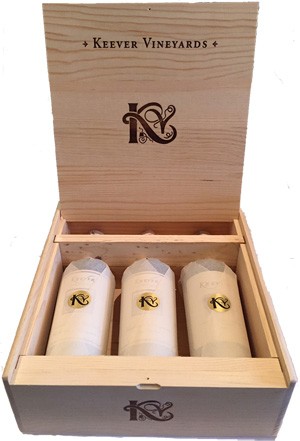 2010 - 2012 Vertical, Cabernet Sauvignon, Boxed Set
Other Notes
96 wooden boxes produced
Production Notes
Cabernet Sauvignon
2010 Cabernet Sauvignon: 100% Cabernet Sauvignon, originally released in October 2013. 375 cases produced, 10 cases held in library. 95 points, Wine Advocate.
This beautiful, elegant, ripe Cabernet displays its hillside heritage with the classic 2010 vintage. Dark chocolate, dusty blackberries, and warm, juicy purple plums intertwine aromatically to create a complex impression of concentrated ripe fruit. While the Keever Estate vineyard regularly yields creamy, rich tannins, this amazing vintage adds an element of backbone and drive to the satiny texture, giving the wine exceptional density and concentration. The flavors of ripe black fruit linger on through the finish, supported gently by undertones of mocha and toasted oak. While enjoyable now, this is clearly a vintage that will benefit from cellaring for 5-10 years. - Celia Welch, October 2013
2011 Cabernet Sauvignon: 95% Cabernet Sauvignon, 5% Malbec, originally released in February 2014. 360 cases produced, 12 cases held in library.
A cooler vintage in 2011 lends itself to growing conditions which favor intensely aromatic wines, and this rendition of Keever Cabernet Sauvignon is no exception. Plums, chocolate, basil, ripe cherry, anise, and subtle hints of cinnamon and camphor rise gently from the just-swirled glass, promising more of the same as the wine opens on the palate. Texturally, the soft and elegant entry yields to a silky mid-palate, the result of gentle handling throughout the winemaking process. The flavors of plums and floral stone fruit linger throughout the finish, with just a hint of earthy oak and vanilla providing base notes as a counterpoint to the lifted fruit and floral flavors. Providing a sense of grace from start to finish, this wine is stunning now and will improve with cellaring. - Celia Welch, February 2014
2012 Cabernet Sauvignon: 96% Cabernet Sauvignon, 4% Cabernet Franc, originally released in January 2015. 944 cases produced, 9 cases held in library. 95 points, Wine Spectator.
Winemakers routinely pray for growing seasons exactly like the one which Napa Valley experienced in 2012. Long, even, dry summer months of daily temps in the mid-80s gave us the ideal growing conditions for flavor and tannin maturity, acid retention, and perfect balance, as evidenced in the 2012 Keever Vineyards Cabernet Sauvignon. Bright, fresh plums, blackberries still on the vine, grilled figs and just a whiff of ripe sweet pipe tobacco dominate the intense and complex aromas of this fully-ripe Cabernet Sauvignon. The dark cherry notes combine with caramel and vanilla from the new French oak, giving deep bass notes to the aromas.
On the palate, the sweet fruit is similarly balanced with the darker characters of mocha and toasty oak. Broad and soft at entry, the wine shows richness throughout the palate and finishes with a warm, silky texture. This wine is delicious at release but will mature and improve over the next six to eight years, and hold easily for fifteen. – Celia Welch, January 2015
Wine Specs
Varietal
Cabernet Sauvignon