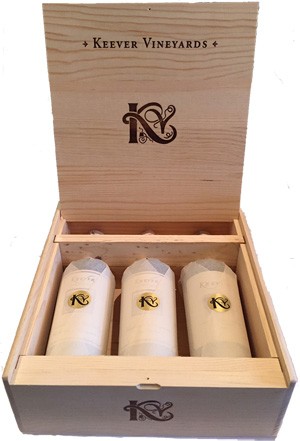 2013 - 2015 Vertical, Cabernet Sauvignon, Boxed Set
Unfortunately, we are sold out of this item.
2013 Cabernet Sauvignon: 93.5% Cabernet Sauvignon, 4.5% Malbec, 2% Cabernet Franc, originally released in January 2016. 600 cases produced, 15 cases held in library.
Lovely aromas of fresh black currants, baked cherry pie, dark vanilla, and hints of cocoa powder and pipe tobacco jump from the glass in this fully ripe Cabernet Sauvignon. At entry, the palate impression is soft, silky, broad and fruit-driven, then melts into a fresh, velvety mid-palate. Throughout, the dark ripe fruit flavors demand center-stage. The ripeness and purity of purple fruit flavors linger on throughout the finish, which displays a core of firm tannins wrapped up in a satiny finish. - Celia Welch, January 2016
2014 Cabernet Sauvignon: 96% Cabernet Sauvignon, 2% Malbec, 2% Petit Verdot, originally released in May 2017. 1013 cases produced, 12 cases held in library.
Bright purple aromas of boysenberry, mulberry, and warm summer briars invite a closer look at this fully ripe Cabernet. Plush and satiny at entry, the purple fruit flavors are enveloped in mocha, vanilla and warm spice tones in the mid-palate, where the concentration of texture and the fine-grained tannins combine to create a palate impression of sweet and savory tones. At the finish, the slightly softer acidity leaves an impression of juicy baked plums and warm berries.
In 2014, California entered its third year of drought. Our vineyards experienced only a handful of small later-winter storms that happily gave our grapevines at least a sip of water with which to power our early season growth. A relatively mild summer meant that our fruit was able to ripen slowly and completely, and the very dry soils created a harvest with overall smaller and slightly drier grapes. This is evidenced in the intense color and concentrated flavor of our 2014 Cabernet. Harvested between September 11 and October 13, the fruit was hand-harvested, sorted, destemmed and sorted again, then fermented on skins in small batches for about 24 days. The new wines were then transferred to small French oak barrels (70% new) for approximately 21 months of barrel age before bottling without the use of fining or filtration. – Celia Welch, May 2017
2015 Cabernet Sauvignon: 100% Cabernet Sauvignon, originally released in September 2018. 836 cases produced, 15 cases held in library.
This fully ripe Cabernet Sauvignon shows intensely aromatic tones of spiced plums, cranberry, cherry tobacco, fresh sage, and a note of warm toasty vanilla. On the palate the texture is immediately broad and plush, with bright, fresh berry notes and dusty mocha/dark cherry flavors both simultaneously enveloping the palate. The finish displays surprisingly resolved tannins given the overall weight of the wine, and fades to a lingering impression of fresh cherry.
In 2015, late Spring rains interrupted pollination of the grape flowers, resulting in a much-reduced number of grapes on each cluster. This smaller crop size gave us outstanding flavor concentration and a lovely uniformity of ripeness throughout our vineyards, as evidenced by the structure and texture in the finished wine. Harvested by hand between September 17 and September 25, 2015, the grapes were sorted by hand twice, then fermented on skins for an average of four weeks before the wine was transferred to French oak barrels. Each batch of fruit was kept separate for the first 12 months, then blended and allowed to marry in the barrels for an additional eight months prior to bottling in late May, 2017. – Celia Welch, September 2018
Wine Specs
Varietal
Cabernet Sauvignon